iPeriod menstruation tracker app
iPeriod keep track of your menstruation schedule on your iPhone. All you do is enter in the first day and last day of your period for at least two consecutive cycles, and iPeriod calculates your average duration, cycle length and estimates the dates of your next expected periods. A must have for doctorís appointments, when to go swimming, event planning and estimating when to leave the house prepared.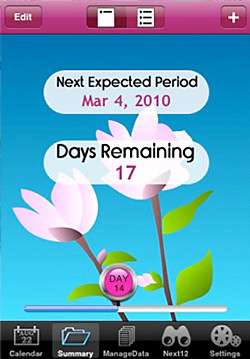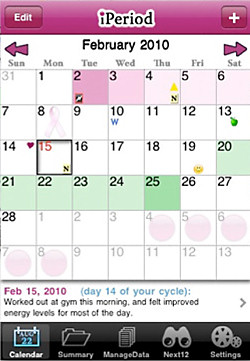 This iPhone application contains lots of customization and covers more than 60 symptoms. It has four free skins including Winter Sports, 3 calendar styles, track headaches, appetite, breast tenderness, and temperature. The icon for this app is discreet and the name that comes up is just "iP". It will predict your future 12 periods, predicts ovulation and fertility. You can set alerts that will warn you when your period is expected or late. You can also set it to send you an e-mail which is very clever.