Free menstrual calendar
I believe this is the best of the bunch. The free menstrual calendar from FertilityFriends.com is a simple to use calendar designed to predict your menstrual cycles and possible best fertile days for those trying for a baby. You can use this app to record your periods, intimate relations, daily notes, calculate your cycle length automatically based on your data or set it manually. You can use it to get a prediction for both your periods and your fertile days. It helps you plan ahead.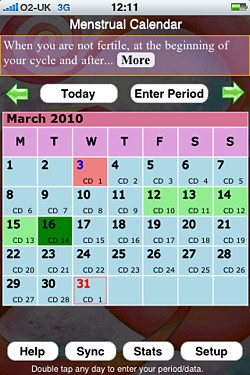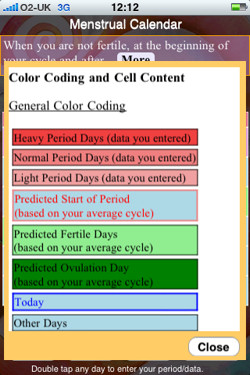 With the free Menstrual Calendar you can view or email a cycle stats report. You have the ability to set a privacy code. The software displays your cycles at a glance on a easy to read calendar. The app comes with easy to read educational tips and information about your menstrual cycle and your fertility signs. You can synchronise or backup your data with your free FertilityFriend.com account.