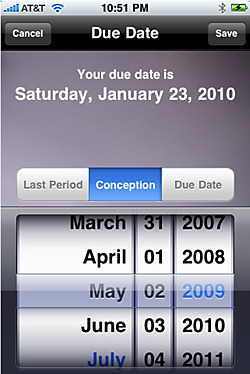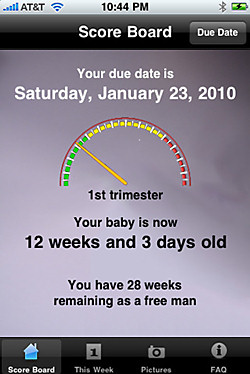 The m Pregnancy iPhone app it contains a useful section with Frequently Asked Questions (FAQ) which among other things lists foods that are not safe to eat during pregnancy. The application not only keeps track of the baby's gestational age, trimester and days left of pregnancy, but it also explains all the weird counting tricks that are used during pregnancy, e.g. how the age of the fetus starts counting even before conception!
Please share your thoughts about what we can do to make this application better. Our goal is to provide the best pregnancy application for men, so feel free to request new features and we will do our best to satisfy your needs. Just write a review where you tell what features that you think would be beneficial.
The mPregnancy iPhone app features information on the baby size for each week, both in inches and the metric system. It shows a picture for each week that shows the size of the baby in comparison to an object well known to men, e.g. the size of a football. The mPregnancy iPhone app shows a useful FAQ that contains information about what your partner cannot eat, how to prepare a nursery, and how the baby's gestational age is counted.
It also includes weekly information about the baby, about the expecting mom, and about you as the expectant father. It also deals with other pregnancy related things, such as economy, insurance, baby shower, and how to prepare for delivery and the first few days after the delivery. There is a scoreboard that keeps track the baby's gestational age, the current trimester and the number of days left of the pregnancy. The due date can be set with one out of three popular ways: beginning of last period, conception date, or due date provided by your doctor. Although mPregnancy is mainly written to appeal to men, many women will find it useful as well, in the sense that they see their pregnancy from the perspective of the partner.